Sometimes a big living room or kitchen-dinning area is a wasted space. By putting a wall up , the space can be divided and you can create a second room/ bedroom, office area.
Sound proofing the wall is very important, its always better to use acoustic insulation rather than cheap standard insulation.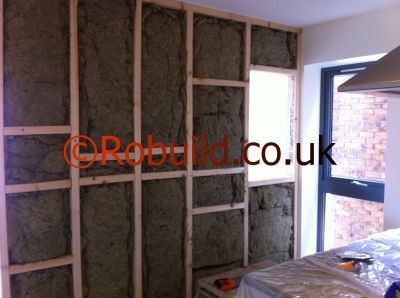 A good way to save on time and cost is to use a tape and joint system , rather than plastering – skimming the wall.The wall can also be easily removed if needed.

If part of the room will get less natural light by building a partition wall, a good compromise is to have a window installed into the wall, and if you want a bit of privacy, you can use obscure/sand blasted glass.
The final result is two medium sized rooms.The skirting board, door, architrave and painting needs to be matched to the existing decorum.