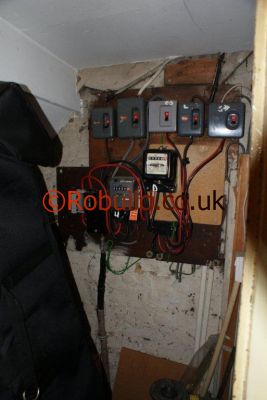 Rewiring a house or a flat is a major electrical project, not only because of the new electrical installation, but also for the collateral damaged caused to the fabric of the building. Floors needs to be taken out, ceilings taken down, walls chased, for the new electrical cables to be run in place, sockets and lights, all get damaged. And if that is not enough, the dust and dirt will almost require the house or flat to be fully refurbished.

If the walls and ceilings are covered in wallpaper, it is very possible that plastering will be needed, wooden floors such laminate flooring will be taken out and not be re-used, wall tiles and skirting boards the same.
While the re-wiring project itself might not cost too much, full refurbishment of the house and flat will involve a major budget for the works. New kitchen, bathrooms, flooring, painting and decorating, can add up to a major sum to be invested into the property.
The duration of works can vary, from one or two weeks for the re-wiring, depends on how many power points, lights, sockets will be installed in the house or flat, to few months for a full house or flat refurbishment.