Sometimes, building a small extension can be done very cheaply if the new extension can make use of three existing walls. You might not need Planning Permission, but you must apply for Building Control by submitting a Building Notice and pay the required fee. Note: if you submit the Building Notice but you do not pay the fee – the Building Notice is ignored by the Council.

Demolition of the old conservatory
Because there are already three existing walls, the old property and the neighbour's extension wall, in this case we have an U – shaped site. After getting the neighbour to sign the Party Wall Agreement, the wall can be used as part of the new extension.
Infill extension
Due to a tree close by, the Building Control asked for the foundation to be 1.5 deep.
Because the foundation was small in size, mixing the concrete needed to fill up the footing was done by hand.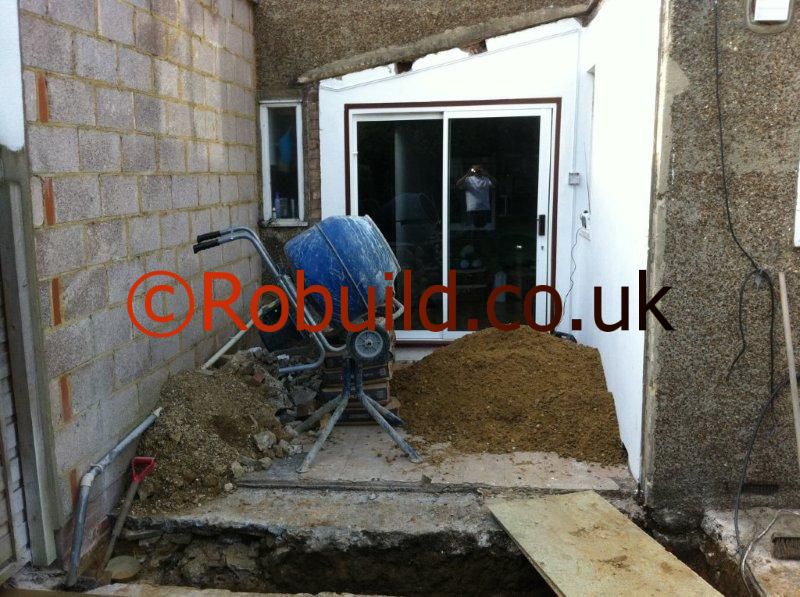 The trench does not have to be filled up to the rim, it can be done bellow the ground level. Just make sure is levelled, it makes the bricklayer's job easier.
For this particular home extension, the roof is a flat roof ( warm decking – warm roof ). You can also see the brickwork bellow the DPC level ( damp proof course )
The flat roof is covered by fibreglass and for the light we installed a Velux window right in the middle of the roof.
Having a large roof window installed, will provide natural light.

Double glazing extension french door