The first impression anyone gets of your home is the hall. So ideally it should be bright, warm, welcoming, uncluttered, and draughtproof. But the one so many of us end up with is a dimly lit corridor stacked with muddy shoes and prams or bicycles. Even the most unpromising hall can be considerably improved and brought up to the same decorative standard as the rest of the house.
Although it is really part of the exterior of the house, the front door is nevertheless an important part of any hall. The colour chosen for the outside should team not only with the colour of the external walls, but also with the colour of the hall. House numbers of a decent size make identification from car or cab that much easier. Brass and chrome reflect brightly in headlights but need regular polishing while black numerals, though less reflective, need little maintenance. Other door furniture is just as important.
A well-designed set of knob, letterbox, and knocker, whether made of brass in an old design, or more modern anodised aluminium, adds importance to any door. One of the easiest mistakes to make is choosing a letterbox that is too narrow, so that wide enve, lopes have to be bent or crushed when inserted.
Burglar and draught-proofing
Even more important to most of us than design considerations is the safety of our property. A good mortise deadlock, therefore, is vital. The kind of lock that is opened merely by inserting a key and giving it a half-turn to pull back the lever can be too easily opened.with a piece of mica or thin plastic by anyone so inclined. A front door is also one of the most likely places for cold air to enter the house. It has been estimated that the cracks and chinks round the average front door add up to an opening of 690 sq mm (27 sq in). If a wind of only ten miles an hour is blowing, this will let through about 1,224 m (2000 cu ft) of cold air an hour.
Obviously, then,draught proofing this particular door is one of the most worthwhile household jobs you can do.
An inner, or secondary front door (where this is possible) is a structural alteration that improves the comfort of a house out of all proportion to its cost.'As well as making an even more efficient job of the draught stripping which you should treat the front door to, it performs a function similar to that of double glazing. The 'sandwich' of air between the two doors blocks off noise, and also helps to cut down on any condensation. Warmth from your heating system is kept inside the house more efficiently, and the area between the doors can serve as a handy little vestibule where people can hang their coats and hats, leave umbrellas, and wipe their feet before entering the rest of the house.
For the sake of your decoration have a door-stop or rubber buffer fixed to the appropriate skirting board. If an inner door is glazed, a cross bar at some point will help make it more visible to children. If installing an inner door is impossible or just undesirable, a thick, heavy curtain can be used provided it does not block the source of light. Even this will cut down on heat loss and help to prevent draughts.
Flooring materials
Flooring must be tough, especially in halls, staircases and living rooms, where there is more traffic than anywhere else in the house. Another point to note, particularly relevant in a small area, is that the hall and staircase should be floored in the same material, or, if this is not possible, at least in the same colour to give a sense of continuity. And when you are considering what colour to use, remember that some colours or patterns are more likely to conceal dirt than others.
In a flat anywhere above ground level most of the dirt will have been walked off on the communal stairs. This means if you are choosing a carpet for a town house hall, pick one of the darker colours if it is to be plain, or one with discreet patterns, perhaps in two tones of the same colour, or in two neutrals, like a grey and dark beige mix. Tight little geometric shapes, which might include floral designs, or elegant stripes, look a 1ot better on stairs than splashy abstracts or wreaths of flowers.
In a country house,'where dirt is less likely to be a problem than in a city, or in an upstairs flat, lighter colours are possible, though it is still worth remembering that these floors are always the ones that will get the hardest wear in the house. In any case, whatever the colour or pattern of the carpet chosen, the quality should definitely be heavy duty. Wool carpets have a grading system, so that you know exactly where you are. But there is no such system for carpets made of synthetic fibre.
Your best safeguard here is to go to a reputable store and tell them exactly where you plan to use the carpet. Sisal makes an excellent hall flooring, not only because of its toughness, but also because its tweedy flecked look is also dirt concealing. If, as often happens, you have had to buy the stair carpet 'with the house' as part of the fixtures and fittings, covering the hall with matching sisal achieves a unified look. And it is a lot cheaper than lashing out on a matching carpet. Sisal is, however, unsuitable for stairs, because of its slipperiness. Linoleum or vinyl can also be used for the hall floor and they should be heavy-duty grade.
As with carpets, plain colourings or unobtrusive patterns look best in narrow or small halls. But in a wider or bigger room all sorts of elegant effects can be achieved with tiles laid in formal patterns, as banding or bordering, or sometimes simply with one random dark tile here and there. In the halls of country houses, natural materials like flag-stones or quarry tiles look good. If wood or hardwood is used for a hall floor, it must be very carefully sealed if dirt and grime are not to penetrate.
This usually means annual resealing. Wooden stairs can have great charm (particularly in the country) and it is a lot cheaper to strip and seal the wood of your stairs than it is to buy carpeting. But wooden stairs are noisy and, if the house has more than two floors, may look a bit bleak. Carpeted stairs are softer and safer, especially if there are young children about.
Whatever flooring you choose try to have a 'well' for the doormat by the front door. This prevents the doormat skidding under anyone and looks far neater.
Durable wall finishes
Like the floor, the walls of a hal1 have to stand up to knocks, bangs, and dirt. Decorating a hall and staircase is expensive if done professionally and, for the do-it-yourselfer, can be more difficult and time-consuming than any other room in the house. So it is worth picking a finish that will stand up to a lot of wear. Wal1 fabrics, such as hessian, are good looking, long lasting, and do a good job of hiding or holding together defective plasterwork.
When you use hard, shiny flooring like tiles, wall fabrics add a welcome softness of texture. Unfortunately, hessians are expensive, but some of them can be painted over when they are dirty. The 'poor man's alternative' is a scrubbable vinyl. These have improved enormously in recent years, and one or two ranges now simulate anything from silk to Japanese grass-cloth almost undetectably. They are also available in a wide range ol patterns, but on the whole these tend to look less attractive than the plainer ones.
Wallpaper in a hall can get easily torn, and emulsion paint in a pale colour often seems too unemphatic. One advantage of using gloss paint is that it can be washed over. Like other rooms which you pass through quickly, halls can be decorated in stronger, brighter colours and tones than those which you would pick for a room where you might spend several hours at a stretch. Many halls are in themselves gloomy because of the lack of natural daylight. But again, warm colours help counteract this impression.
In a north facing (cold) hall, especially, colours like tomato red, orange or yellow give a cheerful look. These colours also look quite attractive under artificial lighting. Sometimes, a hall may have distinctive architectural features; in such a case, unobtrusive colouring should be used to al1ow elegance to speak for itself.
However, painting a pretty cornice white, against a deeper wall or ceiling colour, will give this its due emphasis. It is always best, where possible, to continue the hall colouring up the stairs. But if there is a natural break in the form of an arch or architrave, then the wall finish can be changed.
Lighting
A blaze of golden lamplight always looks welcoming on a cold night, but good strong lighting in halls is important for other reasons. Inadvertent accidents caused by stumbling over misplaced toys can be avoided and if your stairs end up in a very small hall it helps prevent any member of the family from crashing headlong down the stairs into the door.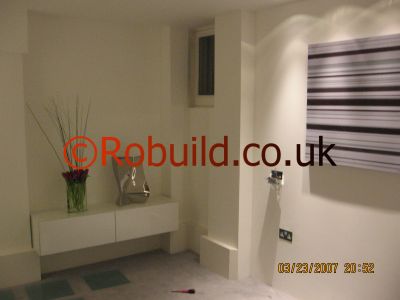 A hall is one of the few rooms where overhead lighting is best, partly because of the wider throw of light it will give, and partly because there is no danger of it being knocked down, or cutting into wall space. Several over-head lights work far better than one, because their beams will interplay attractively. Down-lighters with focussing lampholders are particularly effective here. For the stairs, the important thing is that both treads and risers are clearly defined. Over-head lighting alone will give a 'flat' look, and this may prove deceptively dangerous, especially to old people.
Storage Priority
Storage for the hall is somewhere to house hats, coats and boots. Almost as important is storage space for larger items like bicycles or prams. If there is a lot of space available, the hall can also be used for storing general clutter like fishing rods, suitcases, sewing machines, and so forth. In a long narrow hall, there is often little room for even minimal storage. In this case, coat and hat hooks will have to do. If you have an inner door, site them within this vestibule. Sometimes, with this sort of hall, there is a half-landing which can act as an auxiliary hall. You might try to have a cupboard for outdoor clothing here. A useful extra in such a cupboard is a small, low-watt electric heater to dry off damp garments.
It is best sited at floor level, because heat rises, and should be adequately safeguarded in case a piece of clothing falls on it. The hot-pipe type of radiator is even safer, and can serve the same purpose. Where possible, a pram shed outside the house makes the best home for baby carriages and bicycles. It has the added advantage that no wheel dirt is brought into the house. In many houses, there is sufficient space under the stairs to make a good-size cupboard. Sometimes this is even large enough to make into a mini-room such as a little sewing corner complete with machine, worktable and sewing drawers for instance, or a tiny study with desk, telephone, pinboard and filing wall, or even a shower.
In most halls, a safe rule is to keep accessories as unobtrusive as possible. A hall is, after all, a place of passage. It is also primarily a place for taking off outer clothing and for expansive gestures of welcome, so that anything delicate or fragile that can be knocked over easily, in all probability, will be knocked down. The most important accessories are often a mirror, somewhere to stack letters, some kind of shelf or drawer fitment for keys, scissors, string, dog leads or any other vaguely communal property. If possible, try to provide a place to sit-especially important if the telephone is in the hall. The hall is also a good place for any wall collection, from prints to exotic tapestries.
A mirror in the hall can be a good deal more than something for a last-minute check on face or hair. To double the width of a narrow hall, use mirror all down one side, or mirror panels between louvres or pillars. A huge old mirror has more or less the same effect. A table for letters can be something as simple as a shelf above a radiator. But before installing the radiator, with or without its overshelf, check that it is not too near the front door. Remember you might want to allow a pram through. A shelf above a storage radiator can sometimes be extended into a longer wall fitment, with narrow cupboards flanking the radiator itself so that it appears built-in. One section of these cupboards could be kept to a lower level and the top covered with a cushion pad, so that it can be used as seating. Alternatively, narrow bench or pew type seating is often possible.
A good looking settee may be expensive, but other narrow seating can often be bought-or made cheaply, then painted, stained or lacquered to match the decor. Halls and landings are excellent places to hang collections of prints or pictures-and the halls, like cloakrooms, are often the place for anything that is 'amusing' rather than simply expensive. Again, a good strong colour or fabric background will enhance anything from a collection of Victorian cigarette cards to a shell collage. A wide hall can double as a library, taking a whole wall full of books.
Dealing with problem halls
Some halls have ceilings that are too high. You can install a false (lowered) ceiling which means that you will then be able to safely recess the down-lighters. Or you can paint the ceiling in dark or receding colours and locus a few spotlights downwards from high on the walls, so that the ceiling 'disappears' altogether. Other halls may be too long and narrow. Try extending the floor colouring up a few inches on the walls on each side, using a different or lighter tone above. Or use mirror down one wall with, perhaps, a bamboo or leafy paper opposite. Some halls have all the charm and character of a shoebox!
You could add interest by panelling the back of the front door or painting it. You could also put in a hardboard arch just before the stairs start to give an elegant 'Georgian' effect. Yet other halls have too many doors, and this could mean draughts. If you can, block up one or two and paint or paper over them. Occasionally, a cupboard and alcove or shelves can be fitted within the door architrave. These can be made especially attractive by fitting them with concealed lighting. Some are halls are simply too sma1l.
One drastic solution is to get rid of the hall and have a larger living room instead, with the stairs rising out of it, and a secondary, inner door cutting off the noise and cold from outside. In most two-storeyed houses extension, removing the existing living room wall is a massive knocking-through job. But in homes where this wall is not supporting a wall immediately above it, the idea is worth serious thought.